Welcome to Free Spirit Gathering
Online sales are closed. All ticket types are available at the gate. See you there!
August 1-6, 2023, Camp Ramblewood, Darlington, Maryland
All people attending that are eligible for vaccination are required to have one base set (2 Pfizer or Moderna, or one J&J) as well as at least one booster.
This applies to everyone 5 years old and up per the CDC guidelines.
Proof of vaccines is required either in the form of the card or a virtual card.
Masks required indoors only at all times, except when sleeping, washing, or eating in all spaces other than sleeping cabins.
Welcome to the Free Spirit Gathering, located at Camp Ramblewood, in Darlington, MD ! We invite you to join us from August 1st to August 6th for an extraordinary celebration of freedom and self-discovery. Our gathering provides a magical setting where you can immerse yourself in a rich tapestry of spiritual exploration and communal connection. Engage in transformative workshops, participate in empowering rituals, and forge lasting bonds with fellow seekers on a similar path. Nestled amidst the serene beauty of Camp Ramblewood, this gathering is your opportunity to break free, embrace your true essence, and embark on an unforgettable journey of personal and collective transformation. Mark your calendar and prepare for an experience like no other at the Free Spirit Gathering!
Buy your tickets today before the prices go up on June 1st!
Information about ticket price increases can be found here.
Announcing Tuesday night's Meet and Greet
Normally we reserve the first day of the event to give people to setup, socialize, and prepare for the exciting week's of events, but we're adding a light weight events for those people who are looking for something to do.
First, is the Meet and Greet from 8:00-10:00 PM on Tuesday in the Dance Pavilion (at the bottom of the camp). Here you can meet volunteers, presenters, and other attendees and just hang out, talk, and get to know everyone. You can read more on our Workshops Page.
Initial Program book
If you'd like a glimpse at what's coming, we have our first draft of the program book
FSG is Proud to announce its list of Workshops for 2023.
You can see a list of workshops on our workshop page.
Entertainment up
FSG is product to announce our evening entertainment acts for FSG 2023!
Cabin Request form now up
We're doing cabin request differently this year. Instead of part of registration, there's a separate form that you'll need to fill out for a cabin request. If you want to share a cabin with your group, please fill out the Cabin Request Form
Rob Schreiwer and Distelfink Sippschaft to Conduct opening, main, and closing rituals
Free Spirit Gathering is proud to announce that Rob Schreiwer and Distelfink Sippschaft have agreed to conduct the opening, main, and closing rituals for FSG 2023!
Distelfink Sippschaft is a community organization based in the United States that promotes the study and practice of Urglaawe, a modern tradition that seeks to revive and reconstruct the pre-Christian religion and cultural practices of the Deitsch (Pennsylvania German) people. The organization is based in the Lehigh Valley region of Pennsylvania and is open to people of all backgrounds who are interested in learning about and engaging with Urglaawe. The organization's activities include hosting events, workshops, and rituals related to Urglaawe, as well as providing resources and support for those who wish to learn more about the tradition.
Free Spirit Gathering 2023 – 20% off until January 15th!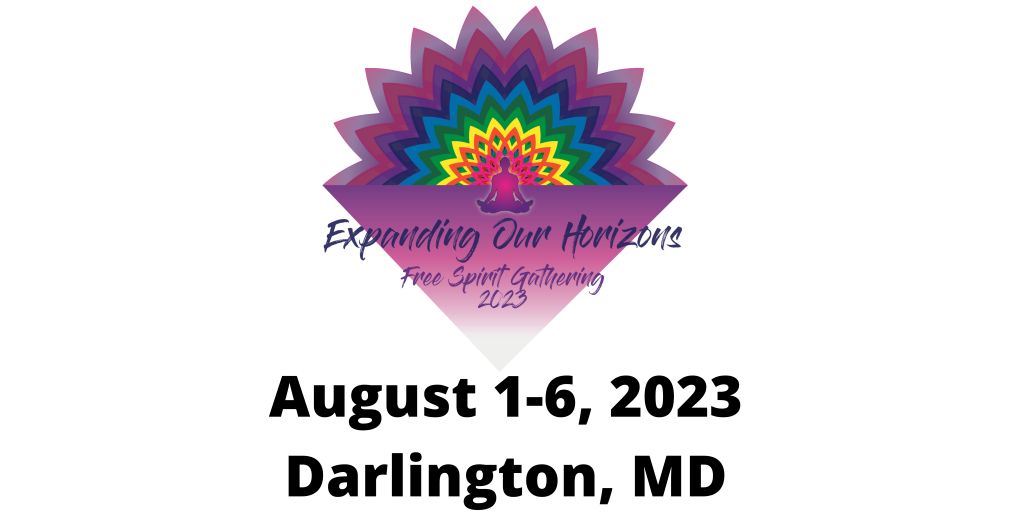 What could be better than Pagan Spirituality, Fun, and Friends? It's time to celebrate with Pagan Freedom at the 2023 Free Spirit Gathering! All are welcome to join us for this affirming event, where something for everyone can be found – in workshops about Paganism, evening fires that bring us together, music and dancing. Let us all nurture our spirits by experiencing the wonders of Paganism outdoors in nature as we connect with ourselves and our peers during this magical festival. Don't miss out on an opportunity of a lifetime – we can't wait to see you there!