Presenter Bios
Featured Presenters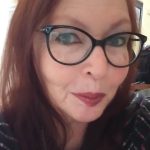 Byron Ballard
H. Byron Ballard, BA, MFA, is a western NC native, teacher, folklorist and writer. She has served as a featured speaker and teacher at Sacred Space Conference, Pagan Spirit Gathering, Southeast Wise Women's Herbal Conference, Glastonbury Goddess Conference, Heartland, Sirius Rising, Starwood, Scottish Pagan Federation Conference, Hexfest and other festivals and conferences. She serves as senior priestess and co-founder of Mother Grove Goddess Temple and the Coalition of Earth Religions/CERES, both in Asheville, NC. She podcasts about Appalachian folkways on "Wyrd Mountain Gals."
Her essays are featured in several anthologies and she writes a regular column for SageWoman Magazine. Her books include "Staubs and Ditchwater" (2012), the companion volume "Asfidity and Mad-Stones" (2015) "Embracing Willendorf" (2017), "Earth Works: Ceremonies in Tower Time" (2018),"Roots, Branches, and Spirits: the Folkways and Witchery of Appalachia" from Llewellyn (Feb. 2021) and "Seasons of a Magical Life: a Pagan Path of Living" (Weiser, August 2021). Upcoming: "Simple Magics: Secrets of an Appalachian Village Witch" (Llewellyn, 2023), "The Ragged Wound: Tending the Soul of Appalachia" (Smith Bridge Press), "Porch Food: a cookbook from Wyrd Mountain" and a musical adaptation of A Midsummer Night's Dream. www.myvillagewitch.com
Amy Blackthorn
Amy Blackthorn is the award-winning author of the best-selling, Blackthorn's Botanicals series. She has been described as an "arcane horticulturalist" for her lifelong work with magical plants. She has a certification in aromatherapy and is ordained through the Order of the Golden Gryphon. Amy's company, Blackthorns Botanicals, creates tea based on magical associations. She has appeared on HuffPoLive, Netflix's Top Ten Secrets and Mysteries & the AP Newswire. Amy lives in Delaware. You can view Amy's tea shop at BlackthornsBotancials.com.
Irene Glasse
Irene Glasse is a Mystic Witch based in Western Maryland. She is President of the Frederick Covenant of Unitarian Universalist Pagans, organizing and offering Pagan events, rituals, classes and workshops to a large, vibrant community. She is one of the founders of Blackfeather Mystery School, and co-author of 'Blackfeather Mystery School:The Magpie Training.' Irene also performs readings, healings, pastoral counseling services, magickal and ritual work, guided study and more both in person and remotely through her website, www.GlasseWitchCottage.com
Rob Schreiwer
Robert Lüsch-Schreiwer is a founder of Urglaawe, a Ziewer (godsman/priest) in Distelfink Sippschaft, Godsman in The Troth, and a practicing Braucher and Hex in the Oley Freindschaft and the Guild of Urglaawe Practitioners of Braucherei and Hexerei. Through the Pennsylvania Dutch Heathen Alliance for the Urglaawe, he has been conducting a project to gather oral lore from all regions of Pennsylvania Dutch settlement and currently working on other language and cultural advancement projects. He is the former Steer (President & CEO), Clergy, and Ambassador of the Troth, the Founder and Elder of The Troth's In-Reach Heathen Prison Services program, Program Coordinator of The Troth's Red Hammer Disaster Relief Program, Senior Manager of Heathens Against Hate, and The Troth's Steward for Pennsylvania. He is the Founder and Elder of Philadelphia Pagan Pride, and he is one of the Managers of the Parade of Spirits in Philadelphia. He presented at the Parliament of the World's Religions in 2015 and 2018 and will do so again in 2023.
Other Fabulous Presenters
Patricia Althouse
Patty self initiated in wicca in 1993 while a grad student at Penn State and has never looked back, spiritually. She received training in Dianic Wicca while still living in State College, then moved to Four Quarters in 2001. There she became an initiate of Stone Circle Wicca and is still involved with that spiritual path today, currently studying for her third degree initiation. In 2006, she travelled to Cuba to receive her Regla de Ocha initiation and became a priestess of Obatala. Upon leaving Four Quarters she co-founded Stone Circle Council in 2019, a spiritual non-profit dedicated to providing a safe community for pagans and teaching people to Raise Stones.
Sue Balaschak
Sue Balaschak is the creator of Primal Rhythm and a founding member of Burning Sage. She has
produced and engineered many CDs and records. She owns her own record label, Fireband Records.
Her first CD received rave reviews in national publications and is featured in the Cleveland
documentary, "Return of the Cuyahoga" which aired on PBS.
Sue has been playing the drums professionally since the age of 12 and has taught drumming since she was 17. She has facilitated drum circles and drum workshops within the Pagan community for the past 20 years. She has taught accredited classes for Licensed Music Therapists. She has facilitated healing
circles at Memory Care facilities and has performed journey work. Sue blends her professional musical career and her spiritual life.
She lives in Cleveland with three canines, one feline and a turtle, her totem. If she is not drumming, she can be found hiking in the National Parks or on the Appalachian Trail, with her backpack and her dogs. She hosts the show "Drumming Ceremony," an internet radio show that airs on International Pagan Radio on Sundays.
Firesong
Firesong (Eshu Akoni), M.Ed, is a versatile opera singer, as well as a professional vocal teacher, herbalist, artist, visual arts teacher, and experienced gardener. She is a priestess and Pathway initiate at the Universal Temple of Spirits. Called the "human iPod", Firesong conducts Global Spirits services and is cast in several upcoming opera and recital productions. She recorded several CDs of recital performances and of teaching traditional chants. Her garden is ecologically diverse.
The Universal Temple of Spirits is a celebratory group practicing in the Global Spirits tradition. It is a possession-based working. The celebrations welcome all Spirits from around the Globe in friendship. Rituals are theme-based rather than pantheon-based and incorporate what we have in common as humans: shared food, dance, song, drumming, art, and possession trance. Global Spirits is a harm-none tradition. https://www.etsy.com/shop/PurringBansheeStudio ; www.globalspirits.org
Klytus
Klytus has been an an intuitive energy worker their entire life, but received their first taste of intentional energy work at FSG 2009 with workshops in Reiki I and psychic healing. They are certified in Reiki III, with training in shamanic journey work and shamanic soul retrieval.
Denise Lavery
Denise has been attending FSG for about 20 years.Denise belongs to Goddess grove.
Tiffany Mandrake
Mandrake wears many hats in her life. She's a mother, a nana, a priestess, a caseworker, a partner, gardener, cat lady and an activist. Mandrake has been a part of the FSG community on and off since 2003, acting as staff, board member, and presenter. She has been a part of the central PA pagan community since 1993.
Ron Padrón
Ron Padrón (he/him) is a gay Cuban-American folk witch from the swamps of Florida now living in the mid-Atlantic with his husband and their small cryptid dog. He has been a member the pagan community for nearly two decades with specific interests in divination, Queer Ancestor veneration and necromancy, hedge witchery, and social justice activism. He is the creator of White Rose Witching through which he manages a blog sharing Queer Ancestor Spotlights and rituals, and hosts workshops across a variety of topics. He has been a contributor to CoffeeTable Coven magazine sharing reflections on the politics of colonial witchcraft and examples of his personal practice of queer ancestor veneration. He has presented at the Salem Witchcraft and Folklore Festival, locally at Hallowed Homecoming, and as a guest speaker for local pagan groups, historic sites, and small museums.
Carlo Ravin
Carlo Ravin is a poet-astrologer living in New England.
Tina Van Pelt
Fused glass artist and pagan. Have been teaching at FSG since 2006
Patricia Robin Woodruff
Patricia Robin Woodruff is an artist and writer, polymath and Priestess. Her Slavic Lemko heritage is from the Carpathian mountains and she is following a spirit-initiated path of a Lemko Bosorka (shamanic witch.) Woodruff has a PhD in Metaphysical Theology. Her broad knowledge base combined with in-depth cultural studies are providing groundbreaking new insights on the roots of Slavic Magic. She is the author of Woodruff's Guide to Slavic Deities (2020). Dr. Woodruff is currently working on a book series on the Roots of Slavic Magic. Follow her at amazon.com/author/patriciarobinwoodruff